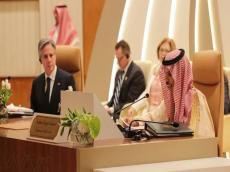 Saudi Arabia will continue to work to prevent the resurgence of ISIS again, the Kingdom's Minister of Foreign Affairs Prince Faisal bin Farhan says in a speech at the ministerial meeting of the Global Coalition to Defeat ISIS on Thursday, Azernews reports, citing Al Arabiya.
The Kingdom believes in the need to confront terrorism and extremist ideology, he said, adding that it is necessary to dry up the sources of financing for ISIS.
Saudi Arabia will make every effort to pursue ISIS wherever it is, the minister said. Coordinated efforts to root out terrorism will continue, he added in his speech.
He also urged countries around the world to work together to spread the values of tolerance and dialogue.
"So I would say to those countries, you must step up, you must take up responsibilities, being part of a coalition means working together," Prince Faisal said.
His statements came during a meeting of the Global Coalition to Defeat ISIS, which the Kingdom is co-hosting with the United States.
For his part, US Secretary of State Antony Blinken confirmed the United States' commitment to defeating ISIS and eradicating terrorist groups.
However, he warned that Afghanistan and some African countries continue to witness an increase in ISIS attacks.
He also warned that keeping foreign ISIS militants in camps may lead to their resurgence, and all foreign militants must be repatriated to their home countries, which he says is an important step in dismantling the al-Hol camp in Syria.
Saudi Crown Prince Mohammed bin Salman met with US Secretary of State Antony Blinken ahead of the ministerial meeting, and the two vowed to work together to advance stability, security, and prosperity across the Middle East and beyond, the State Department said late Tuesday.
According to State Department Spokesman Matt Miller, the US secretary expressed appreciation for Saudi Arabia's leadership in hosting the upcoming Defeat ISIS meeting and stressed the importance of continued efforts to fight terrorism.
In 2014, ISIS fighters seized Iraqi cities and declared a self-styled caliphate in a large swath of territory in Syria and Iraq. The group was formally declared defeated in 2017 following a three-year bloody battle that left tens of thousands dead, but its sleeper cells continue to hide across the world.