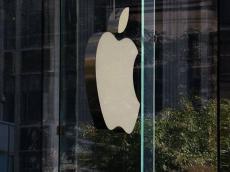 Apple on Thursday announced the financial results for its fiscal 2023 first quarter.
The company posted its quarterly earnings per diluted share of 1.88 dollars, down from 2.10 dollars in the same period of fiscal 2022. Its net income was 30.00 billion dollars, down from 34.63 billion dollars a year ago.
Sales of iPhone amounted to 65.78 billion dollars, down 8 percent year on year, and its sales of Wearables, Home and Accessories products decreased to 13.48 billion dollars from 14.70 billion dollars a year ago.
The company's services revenue rose to 20.77 billion dollars from 19.52 billion dollars a year ago.
International sales accounted for 58 percent of the company's quarterly revenue, while Apple's net sales in the Greater China region decreased to 23.91 billion dollars from 25.78 billion dollars a year ago, according to Apple's financial statement.
"During the December quarter, we achieved a major milestone and are excited to report that we now have more than 2 billion active devices as part of our growing installed base," said Tim Cook, Apple's CEO.
According to Luca Maestri, Apple's CFO, the company generated 34 billion dollars in operating cash flow and returned over 25 billion dollars to shareholders during the quarter "while continuing to invest in long-term growth plans."
Apple's board of directors has declared a cash dividend of 0.23 dollar per share of the company's common stock. The dividend is payable on Feb. 16, 2023, to shareholders of record as of the close of business on Feb. 13, 2023.