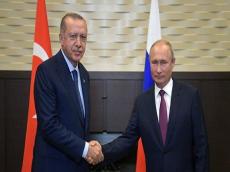 Turkish President Recep Tayyip Erdogan has described his relations with Russian President Vladimir Putin and between the two countries in general as honest and trust-based.
"We have respect and trust in relations with Russia. And my relations with Mr. Putin are based on honesty. And all our requests concerning Tatarstan, Dagestan and these regions are answered," he said at a meeting with the youth on Sunday, which was televised by the TRT channel.
According to the Turkish president, "there were many threats" from other countries "in connection with the purchase of [Russian] S-400 systems." "But we have bought S-400. And now we have them," he said.