Defense Minister General Mostafa Mohammad-Najjar said Iran is currently exporting military equipment to 57 countries in the world.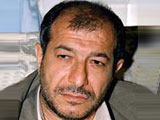 He said the equipment and weapons were of advanced quality adding that the high quality of the Iranian made equipment have attracted good customers around the world.
He noted that self-sufficiency in production of military and defense industries came from imposing sanction against Iran adding that the sanctions did not have negative effects, but rather they brought growth and development to military industry.
The minister reiterated on Iran's interaction with other countries and said, "Iran does not intend to invade any country, but naturally has the right to defend itself against any king of aggression or invasion."
Defense minister is accompanying President Ahmadinejad in his 19th provincial trip to the west Azerbaijan.
/IRNA/