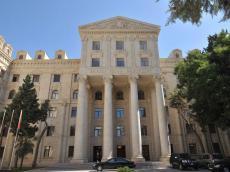 The head of security guard of the Azerbaijani embassy in Iran was killed in the armed attack on the building, Azernews reports per the Foreign Ministry.
The armed attack occurred on January 27 at about 0830 hours (GMT+4), the ministry said.
"An individual with a Kalashnikov assault rifle attacked the security post and killed the head of the security guard. Two embassy guards were also wounded while preventing the attack. Their conditions are satisfactory. This treacherous attack is currently being investigated. The public will be provided with detailed extra information," the ministry added.