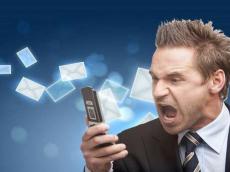 By Amina Nazarli
Advertising is what surrounds us everywhere today, sometimes persistently creeping into our eyes and dazzling on every wall and fence and becoming part of urban landscape.
Even the most experienced marketers cannot say how much money companies spend annually on various types of advertising, but one thing is clear, advertising has become an integral part of our life.
Therefore, the market of goods and services are carrying out a fierce battle for customers. But the only pity is that there are many misleading and intrusive advertising, and very few good-quality and talented ones.
Here it would be topical to talk about undesirable SMS advertising, that display on mobile phone screens almost every half an hour, sometimes even annoying in the middle of the night.
Sometimes you comfortably seat on the sofa, open your favorite book to read and is as about to plunge into the mystery of the disappearance of the main character, and suddenly the telephone rings, and as you might have guessed it -- advertising -- a pleasant female voice that wants to sell you something.
Recently, I realized that I get SMS and hear from handset voices of advertisements more often than my relatives or friends. I am offered a free medical examination, to buy a car at a discount or to invest money. My phone has become a "hostage" of advertisers.
But whether the law allows to disturb the citizens in such a way of advertising. Fortunately, we have not long to wait, as the government has seriously come to grips with the issue. MPs recently raised this issue at the parliament and achieved stricter penalties for those involved in the spread of false advertising.
Starting June 1, the country will increase the penalties for violation of the legislation on advertising.
In case of using false information about goods, works and services, or their manufacturers (executors, sellers) in advertisements, individuals will be fined from 200 ($134) to 500 ($335) manats, executives from 800 ($536) to 1,200 ($805) manats and juridical entities from 4,000 ($2,684) to 6,000 (4,026).
Under the current law, the penalty for the above mentioned offenses are following: 100-150 manat for individuals, 400-600 manats for executives and 2,000-3,000 for juridical entities.