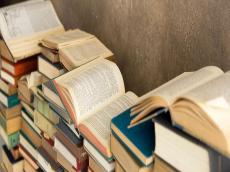 From a literary study of the weather to the story of Caravaggio's tennis matches, Jane Ciabattari picks the titles that should sit on your shelf this month.
Alexandra Harris, Weatherland
"My thinking about people and weather has been inspired from the first by Virginia Woolf," writes Harris, whose Romantic Moderns won the Guardian First Book Award in 2010. In Weatherland, Harris captures the moods and influence of weather from Roman Britain to today's climate change in lyrical prose that slides easily from historic moments to 21st Century insights. She gives us Tacitus, writing "the climate is foul, with frequent rains and mists," and Beowulf's "wild weather". She traces the influence and revelations of weather through the work of artists and writers like Daniel Defoe, "cataloguer of the storm-strewn world", who wrote his first book about a devastating 1703 hurricane, and Charlotte Brontë, who "breathed the lightning of Wuthering Heights with a sense of awe". Weatherland is swift moving and brilliantly written. 
Jhumpa Lahiri, In Other Words
Lahiri, who won a Pulitzer for her first story collection, The Interpreter of Maladies, has written exclusively in Italian since 2012. In Other Words, written in Italian and translated by Ann Goldstein, describes her efforts to establish herself within that new language. Bengali was her first (the language of her parents), English her second. Italian is the "independent path" she began following in 1994 on her first trip to Italy ("love at first sight", she writes), and later when she relocated with her family to Rome. In Other Words is the exquisitely calibrated and intimate story of her metamorphosis as a writer in the language she believes reveals her "most genuine, most vulnerable" self. 
Petina Gappah, The Book of Memory
Gappah's award-winning story collection An Elegy for Easterly dramatised life under the Robert Mugabe regime. Her first novel is narrated by an albino woman named Memory ("black but not black, white but not white"). She is in Chikurubi Maximum Security Prison in Harare, Zimbabwe, writing her life story – her lawyer is appealing her conviction for murdering a white professor named Lloyd. Memory describes prison life, her early childhood in impoverished Mufakose, and her privileged status after her parents 'sold' her to Lloyd (she was nine). Gappah infuses her story with mystery, sensual detail and dark wit. Memory's tale takes many twists and turns, and reveals complicated layers of history, from colonial Rhodesia ("naked warriors from the 1896 rebellion hanging from trees, southern fruit in the Rhodesian bush") to post-independence corruption and collapse. 
Ben Ratliff, Every Song Ever
"We are listening in the time of the Cloud," writes Ratliff, who has been writing about music for The New York Times for 20 years. Every Song Ever includes his insights into the work of a wide range of artists, from Al Green, Carmen Linares, James Brown, Robert Johnson, Miles Davis, Prince, Little Richard, Hank Williams, Sarah Vaughan and Outkast to The Who and The Grateful Dead. He unites Neil Young, John Lewis, Johnny Ramone and Drake, among others, as musicians who excel at "church bell tones." Ratliff brings listening to a new level in clear, effortless prose. 
Álvaro Enrigue, Sudden Death
"Tenez!" So begins each set in a 16th Century tennis match between the Italian painter Caravaggio and Spanish poet Quevedo in this exuberantly intellectual, award-winning novel from Mexican novelist Enrigue. The match is played with a ball made of Anne Boleyn's braids (her executioner, who had an affinity for the game, took them as payment). This match is shaped by hangovers, sexual encounters, mushrooms, iridescence and the distant clash between the Spanish Conquistador Cortés and the last Aztec emperor Cuauhtémoc. Sudden Death is "not exactly about a tennis match," Enrique writes, nor about the "slow and mysterious integration of America into what we call the 'Western world'". Enrigue transmutes the familiar, and shifts our awareness. Sudden Death is an original, transformative work. 
Sharon Guskin, The Forgetting Time
Guskin's provocative and suspenseful first novel explores the cross-cultural attitudes toward "the survival of consciousness after death". Dr Jerry Anderson is a recently widowed psychiatrist afflicted with a rare speech disorder that is robbing him of words. Janie is a distraught single mother whose four-year-old son seems haunted by memories of his "other mother". Janie needs to prove her precocious son is not psychotic. Anderson, who has built a controversial career by writing about children in India and Thailand whose families accept their past lives, hopes to finish one last case study. Guskin portrays Janie's combination of distrust and desperation, and Anderson's facing up to the man he no longer will be, with immense empathy. 
Anne Boyd Rioux, Constance Fenimore Woolson
Woolson was a wildly popular 19th Century US writer, the grand-niece of James Fenimore Cooper, and a long-time friend of Henry James. (She inspired James' The Portrait of a Lady; Colm Tóibín's novel The Master portrayed their relationship.) Woolson died after falling from a third-story window in Venice in 1894, an assumed suicide. Her literary accomplishments soon faded from view, overshadowed by James. In the first full-length Woolson biography, Rioux presents her as "a powerful writer and conflicted woman who was not simply James's follower but his friend and peer". (She was the only American author besides Emerson who James included in his 1888 critical collection Partial Portraits.) Rioux vividly evokes Woolson's struggles to choose independence and a writer's life over domesticity, and gives a convincing reappraisal of her work. 
Gail Lumet Buckley, The Black Calhouns
"The story of Reconstruction is the story of what almost was," wrote WEB Du Bois, who chronicled the decade (1865-1876) between the end of slavery and the advent of the Jim Crow laws that enforced racial segregation in the US. Buckley – —daughter of actress Lena Horne – begins at this point, tracing six generations of her family from the Civil War to Civil Rights. She begins with the newly freed Moses Calhoun, becomes a successful Atlanta businessman. Buckley follows the family members who stayed in the South, and those who migrated to Brooklyn. Lena Horne is "unavoidably" the star of the story from 1943, when she joins Marian Anderson, Paul Robeson and Joe Louis as one of four black Americans with national visibility, until her death in 2010. The Black Calhouns is a rare, intimate and illuminating glimpse into American history. 
Idra Novey, Ways to Disappear
Emma is the long-time translator of a noted Brazilian author, Beatriz Yagoda, whose writing is "so strange and spare that it felt like a whispered, secret history of the world". This seductive mystery begins the day Beatriz disappears, after climbing an almond tree in a Copacabana park with a suitcase and a cigar. Emma flies from wintry Pittsburgh to Rio to help find her, searching Beatriz's writing for clues while coping with the author's two grown children and her distraught publisher. Beatriz, Emma discovers, is indebted to a loan shark for online gambling debts. Someone needs to bail her out – if they can find her. Novey, a poet and translator, brings to her first novel a zesty comic touch and refreshing insights into the delicate processes of writing and translation. 
Nayomi Munaweera, What Lies Between Us
Munaweera's Island of a Thousand Mirrors, winner of the Commonwealth Book Prize for Asia in 2013, is set during the civil war between the Tamil minority and Sinhalese majority in Sri Lanka. Her dark and intensely imagined new novel invokes a "smaller war" in the shadow of that greater war, enacted within the body of a young girl. After a girlhood "brimful of river swimming and schoolgirl friendship", her life is changed by a series of mysterious incidents, leading to her father's death. The narrator and her volatile mother flee to the US, settling in California, where she marries and has a daughter. She tells her story from within a prison cell, convicted of an "unthinkable" act. What Lies Between Us is a haunting testimony to the destructive power of childhood trauma.