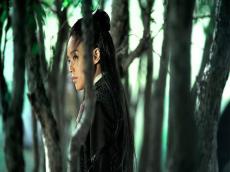 Wuxia is a genre of Chinese storytelling which features wandering warriors of ancient China, who are often able to perform superhuman feats involving martial arts. We in the West know it largely through films such as Crouching Tiger, Hidden Dragon. Increasingly, women are taking over the role of warrior in these films. The latest example of this is the sumptuous feature, The Assassin. But, as BIDISHA discovers, novelist Wena Poon has a much less paternalistic take on the role of the female warrior than movie makers.
The Assassin, directed by Taiwanese auteur Hou Hsiao-Hsien, is an extraordinary addition to the Chinese wuxia or swordfighting genre.
Set in the dying days of the Tang Dinasty, it tells the story of Yinniang, an assassin who kills corrupt politicians. When she is unable to complete an assignment after seeing her target playing with his children, she is sent back home to kill a beloved childhood friend, who now leads a powerful military force.
Slow and meditative, richly staged and exquisitely styled, the combat in The Assassin happens in the background or off to the side, taking third place behind the tense yet largely unspoken social dynamics and the beautiful landscapes of Inner Mongolia and Hubei Province.
It's like a cross between Hilary Mantel'sWolf Hall and Clint Eastwood's High Plains Drifter or Pale Rider, with Yinniang silently haunting the houses of the rich and powerful.
At its most basic form, wuxia is a genre of Chinese fiction and cinema set in ancient China and centred around the heroic deeds of legendary warriors. The release ofThe Assassin reminds us how different artists can work within the wuxia tradition.
Over the last two decades, the Western mainstream has found that bombastic 'kung fu' film treatments go down the easiest, such as Crouching Tiger Hidden Dragon (2000), Hero (2002) and House of Flying Daggers (2004).
The release of The Assassin heralds another peak – or flying leap – in wuxia's progress from Chinese legend to worldwide entertainment.
Netflix and the Weinstein Company will keep up the momentum by releasing the sequel to Crouching Tiger Hidden Dragon, called Sword of Destiny, with an accompanying novel written by Justin Hill, working in part from the 20th centurywuxia novelist Wang Dulu's Iron Crane series.
However, while these films feature female characters performing action stunts, they still come from a patriarchal tradition where all-male creative teams hold all the power behind the scenes.
Although all the stories feature attractive 'warrior women' types, both the source material and modern adaptations are still written and directed by men.
This tendency has found a challenger in Singaporean-American novelist Wena Poon, the author of a trilogy of vivid and highly addictive wuxia novels, , The Adventures of Snow Fox and Sword Girl (2014), Voyage to the Dark Kirin (2015) and the just-released The Marquis of Disobedience.
Poon grew up in Singapore speaking Mandarin, Cantonese and English before moving to America to study at Harvard.
In between her day job as a lawyer, she has published eleven genre-crossing books including a brilliant novel about bullfighting, Alex y Robert, which was made into a ten-part Book at Bedtime on Radio 4 in 2010.
Speaking to me during a visit to London, Poon tells me, "Chinese people have wondered for a long time about why we like wuxia and what it means. Two of the great literary classics of China are wuxia narratives: Outlaws of the Marsh [known to British audiences as The Water Margin due to the Japanese TV series adaptation broadcast by the BBC in the 1970s] and Romance of the Three Kingdoms.
"These types of stories are centuries old and have been adapted for opera, stage, TV and film. The earliest Hong Kong TV adaptations of wuxia stories used classical theatre actors who knew the fighting moves from performing the same stories in operas onstage."
Poon explains that wuxia is about much more than thrilling fights, bloodthirsty gangs and midnight ambushes. She says:
 "Wuxia must have wu, the martial combat spirit, and it must have xia, which usually translates as chivalry or righteousness, although I prefer to think of it as moral certainty.
"Wuxia is a moral justice that functions outside, or in the absence of, Imperial or governmental justice. The wuxia genre cares about dashing outsiders who operate outside the State. They stand for justice and ask for no compensation.
"The wuxia swordsman helps poor civilians, works for the betterment of society and rights the wrongs that the normal system cannot provide. He does this anonymously. The closest English wuxia hero is not Sir Lancelot but Robin Hood, or even Batman."
She points me to the work of poet Li Bai, who wrote during the Tang Dynasty, whenThe Assassin is set. In a verse written in the voice of the ideal swordsman, he remarks: "I cut down the enemy in ten steps, then tip my straw hat, brush my sleeve, and press on."
Poon wanted to confront as well as celebrate the conventions of wuxia for her trilogy.
Watching a TV adaptation of the wuxianovels of Jin Yong, a highly successful pulp novelist of the 1950s, she thought: "How can I replicate the fever and delight of this for a contemporary audience, and also as a woman? Because Jin Yong operated like Hemingway; it was the male gaze.
"There's been a misunderstanding in the West that just because the sword is in a woman's hand, that's a progressive thing, it gives her power. I don't see it that way. [The directors of films likeCrouching Tiger…] picked the most beautiful actresses, just to please the eyes of the cinema goers.
"And isn't there always a love story tagging along with the girls' characters? To quote the French director Agnes Varda, why must a woman always be in love for there to be a story?"
Poon set about crafting a trilogy that would be "as captivating as a video game, HBO's Games of Thrones, or a superhero movie."
But the ancient principles of wuxia needed to be updated somewhat. "As a modern woman you'd feel the story needs to be redeemed to rework the role of women. You know women existed then. But they weren't highlighted."
Perhaps the way forward for 21st century wuxia is to follow Hou Hsiao-Hsien and Wena Poon and strengthen the action and pomp with psychological rigour, gritty politics, nuanced adult emotions and complex women characters who exercise a strength that is about more than mere acrobatics.
As Wena Poon notes, wuxia is a much-loved tradition which continues to inspire: "Wuxia is action, it's colour. You're tapping into a motherload of cultural memory. This is my woman-centric take on it. I asked myself, What can I do, by myself, on paper, to participate in this delirium?"
The Assassin is on general release at cinemas from Friday 22 January 2016. Wena Poon's The Marquis of Disobedience is out now, published by CreateSpace.