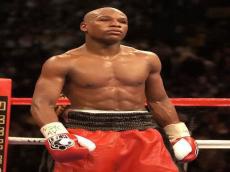 Chamberlain was not the only fan feeling cheated by the unanimous decision that gave Mayweather the win, making him the 48-0, undisputed champion of three welterweight boxing titles.
You see, Chamberlain --who can spout off the fight record of any boxer over the past 50 years -- was routing for Pacquiao. She always takes the underdog, she explained, when I asked her why she was rooting for the feisty Filipino. Plus, she explained, using a word I can't print here: "Mayweather is an ----. I don't like ----. You can be a champion and a decent man, and not beat up women all at the same time. I just don't like the guy."
She was echoing a sentiment of nearly everyone in the beachside bar in Costa Rica where I watched the bout Saturday night. Hundreds of fans, American tourists and the local "Ticos," had gathered in anticipation of the "Fight of the Century." It was impossible to find anyone -- except for me -- who would admit they wanted Mayweather to win.
Despite his arrogance, his brash attitude -- which was mostly not on display Saturday night -- and most importantly his multiple arrests for allegedly battering women, including an assault on the mother of his three children that landed him in jail for two months in 2012, it was Mayweather I wanted to see take home the championship belt Saturday night. I make no apologies for being a fan.
As a survivor of domestic abuse myself when I was a young girl, I know firsthand how a man's rage can nearly destroy your life. But I also have come to learn that forgiving, never forgetting, is the only way to get past your pain. I refuse to let my abuser steal my joy for life -- or my love of boxing. Mayweather will have to deal with his own demons.

Boxing was my first love in sports. My earliest sports memories are of the epic battles in the 1970s between Muhammad Ali and Joe Frazier, and Frazier and George Forman. We are a Philly family and in our house Smokin' Joe Frazier was king. He represented all of the decent, hardworking people in my neighborhood who bobbed and weaved their way through life each day.

We loved his grimy style, his ferocious left hook and his determination to stand up to any man. After Joe was sadly sent home bruised, broken and tormented mostly by Ali, it was George Foreman, Roberto Duran, Sugar Ray Leonard, and of course, Mike Tyson who became our favorites. And it took years, but we even eventually came around to routing for Ali.

However we didn't soon get over how he used his fancy words and a pretty face to try and humiliate and destroy Frazier's character. (And truth be told, I'm still kind of holding a grudge against "The Greatest of All Time.")

I was just a kid but I remember the excitement in the air the week before a fight and the family-reunion-style fight parties in my neighborhood. You couldn't go any place without hearing someone -- man, woman or child -- talking passionately about the upcoming match and who they wanted to win. A good boxing match on TV back then was almost bigger than Christmas.

We didn't expect these men to be better than us, to have perfect lives, to be role models. We knew they were scarred human beings. They faced the same struggles, the same demons -- both in and out of the ring -- as the guy next door. In a sense, that made us like them even more.

Of course, it was easier to romanticize our sports heroes back then, before Twitter could instantly dissect the ugly details of an athlete's life in 149 characters. It was easier to believe instead that if a guy could use boxing to carve out a better life in this world, well then it gave all of us hope that we could do the same. And if we didn't have the courage to face our own enemies, watching a great fight somehow made us feel better about our own problems.

The glitter is long gone from boxing. It is not a serious sport -- too much corruption, too many fixed fights and slimy characters associated with the sport for it to ever really resonate with fans these days -- outside the frantic hype of a pay-per-view prizefight like the one we just saw.

A Mayweather victory or even a rematch with Pacquiao won't bring boxing back. It's too late. But Saturday night, just for 12 rounds, I was reminded why I fell in love with the Sweet Science.