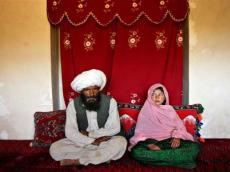 By Graca Machel and Mabel van Oranje
When Memory Banda's younger sister was forced to marry at just 11 years old, Memory became determined to ensure that no more girls had to experience her sister's fate. Since then, this remarkable young woman from rural Malawi has helped to persuade her government to raise the minimum age of marriage across her country, and is blazing a trail for girls that we all should follow.
Memory's sister became pregnant during a traditional sexual "cleansing ceremony," a rite of passage in some parts of Malawi that is supposed to prepare pubescent girls for womanhood and marriage. She was forced to marry the father of her unplanned child, a man in his early 30s, and was burdened with all the responsibilities of adulthood. Now 16, she is raising three children alone; she has been unable to return to school.
The incident inspired Memory to push for a better future for girls. She became involved with a local grassroots group, Girls Empowerment Network, joining other young women and civil-society groups across Malawi to urge village authorities and parliamentary ministers to put an end to child marriages. Last month, Memory's efforts – along with those of thousands of others – paid off, when Malawi's government enacted a new law that sets the minimum age for marriage at 18.
Memory's achievement is an important one. Every year, some 15 million girls are married before the age of 18, and their plight is all too often ignored. A girl forced into marriage typically faces pressure to bear children before she is physically or emotionally ready to do so. And the result can be deadly. Girls who give birth before they turn 15 are five times more likely to die in pregnancy or childbirth than women in their 20s.
The consequences of child marriage are lifelong. Child brides typically drop out of school, losing the chance to acquire the skills and knowledge needed to lift themselves and their families out of poverty. Like Memory's sister, they often are married to older men – a situation that leaves them less able to ensure that they are treated well. Can you imagine trying to stand up to a man you did not choose, you do not love, and who does not respect you?
Education for girls is crucial to ending child marriage. The transition from primary school to secondary school is particularly important, as it usually coincides with adolescence, a period in a girl's life that lays the foundation for success and wellbeing in womanhood. Girls with secondary education are up to six times less likely to marry early compared to girls with little or no education. An educated woman is also likely to bear fewer children and is able to plan for a healthier, more prosperous future for herself and her family.
Girls must be convinced and assured of their worth. In places like India, Tanzania, and Zambia, girls' empowerment clubs, in which members share their challenges and learn how to overcome them, have proved their effectiveness. Such clubs give girls the confidence and skills they need to take control of the major decisions in their lives – including whether, when, and whom they will marry.
But girls should not be left to end child marriage on their own. Child marriage occurs in a wide variety of countries, religions, and cultures, and families, communities, and societies share a joint responsibility to end it. Governments need to adopt legislation that sets 18 as the minimum age for marriage – leaving no room for exceptions such as traditional practices or parental consent.
Fathers, brothers, and male leaders must be engaged to care for and empower girls. Support should be given to civil-society groups that conduct dialogues with parents, teachers, and traditional leaders to build community awareness of the consequences of child marriage.
Girls hold the key to building thriving societies. It is up to all of us to serve as role models for the girls in our lives. We have all benefited from the wisdom of our parents, partners, colleagues, and mentors. It is now up to us to nourish and nurture girls' ambitions. We must bring to an end a practice that prevents millions of them from reaching their potential. Let girls be girls, not brides.