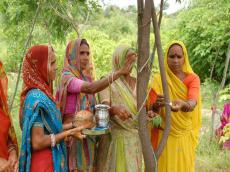 While a vast majority of Indians continue to prefer sons, a small village in the Indian state of Rajasthan has its own unique tradition of celebrating their daughters. Since 2006, the residents of Piplantri village, in southern Rajasthan's Rajsamand district, have been planting a whopping 111 trees to celebrate the birth of a girl!
Given that an average of 60 girls are born each year, the villagers have managed to plant over 250,000 trees so far – including varieties like Neem, Indian Rosewood, and Mango. The community of 8,000 residents is also dedicated to making sure that the trees survive and attain fruition as the girls grow up.
The beautiful tradition was started by the village's former 'sarpanch'(head) Shyam Sundar Paliwal, in the memory of his daughter Kiran, who passed away a few years ago. Apart from planting trees, a special committee also identifies families that are reluctant to accept girl children. They then collect Rs. 21,000 ($336) from village residents, and Rs. 10,000 ($160) from the girl's father – and invest this money in a 20-year government bond to ensure financial security for the child.
And there's more! "We make these parents sign an affidavit promising that they would not marry her off before the legal age, send her to school regularly, and take care of the trees planted in her name," Paliwal said.
In order to ensure that the trees remain free from termite infestations, the residents of Piplantri have also planted over 2.5 million Aloe Vera plants around them. The trees, along with the Aloe Vera plants, have become a major source of livelihood for the villagers.
"Gradually, we realised that Aloe Vera could be processed and marketed in a variety of ways," Paliwal explained. "So we invited some experts and asked them to train our women. Now residents make and market Aloe Vera products like gel, pickle, etc."
The village of Piplantri promotes the spirit of community in other ways too – they have their own website, and a special studio-recorded anthem as well. They've completely banned alcohol, open grazing of animals, and the cutting of trees. The residents seem to be a happy lot, and claim that there haven't been any crimes reported in the past seven to eight years. That reminds me of Shani Shingnapur, India's village without doors, which has also apparently been crime free for a very long time.