Reza Deghati's exhibition in France presents photos dedicated to Azerbaijan. Exhibitions of famous photojournalist Reza Deghati continue in the regions of France, Azernews reports, citing Day.az.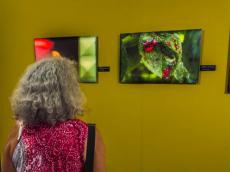 The opening of the photojournalist's exhibition "Depth of Silence" took place in the town of Vannes, Brittany region.
At the exhibitions of the master one can always see photos related to Azerbaijan and dedicated to the towns and villages of our country, which were destroyed by Armenian occupants. Reza Degati brings the realities and evidence of Armenian occupation and vandalism to the world community through the language of photographs.
For many years Reza Deghati has been appealing to the humanism of people in his work, showing the hardships and deprivations that inevitably accompany military operations. He communicates his message not only through photographs but also through books, documentaries, conferences, seminars and exhibitions in France and abroad. Reza Deghati is an eyewitness and chronicler of the events that have shaken the world since 1979, often referred to as a "peace correspondent". In his works Reza Deghati also reflected the pain of the Azerbaijani people, their 30-year longing for their native lands.
Pierre Bongiovanni and his wife Rachel Deghati curated the master's exhibitions in France. For more than 40 years the photographer has been travelling around the world and has managed to visit many "hot spots" of the planet. His exhibitions invariably arouse the interest of connoisseurs and amateurs of photography, and all those who care about the feelings and experiences of other people.