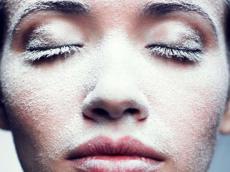 By Laman Sadigova
Cold winter air can create havoc for your soft skin and hair, especially in Baku where cold winds relentlessly blowing on your face. For many people, those cold, clear days of the capital's winter bring more than just a blush on the cheeks, but also bring uncomfortable dryness to the face, hands and hair.
Cold air outside and heating indoors can strip moisture from pores, making your hair rough and skin itchy and dry.
If you want to enjoy winters without panicking about your health, you should seriously take care of the most exposed places of the body.
Young fashionista refuse to wear headdresses and expose their hair to large risks. Maybe some tips will help you to fight this winter disaster.
Hair
1. If you want your hair to look perfect, include a hair mask into your weekly routine. Argan oil is a great product to use, as it moisturizes the hair. Make sure the oil is not too heavy for your hair type. Also, you can use vitamin E, as our grandmothers did in the past.
2. Don't forget to wear a hat, as it helps protect your hair from drying out, and hats keep your head nice and warm. From too much exposure to cold, harsh weather can leave your hair brittle and dry, making it more susceptible to damage.
3. Fill your fridge with healthy, monounsaturated fats and omega-3 fatty acids, such as fish, nuts, olive oil, flax, sardines, and avocados. Also, it will be better if you increase the amount of water you drink during a day, as water is a cure for everything.
Skin
4. In case the temperature inside is much hotter than outside, the air can irritate the gentle skin of the face, neck and hands, and can even cause capillaries to break from the shock caused by changing temperatures. While walking around at home, wear slippers or warm socks to prevent getting cold feet, which can cause chilblains, which results in your toes swelling, skin to become sore, and sometimes causes permanent disfigurement.
5. Skin becomes drier in cold weather, especially if it is windy, like here in Baku, the city of winds. You can try to use a slightly heavier moisturizer and make sure you do it every morning, especially if you are going outside, to prevent your skin from becoming dry and flaky.
Changing your skin care routine may cause a breakout, initially, but that will disappear as your skin gets used to it. You will need a couple of weeks to see if your skin adapts to this difference.
So, take care of your skin in all weather conditions and do not miss a chance to look pretty!