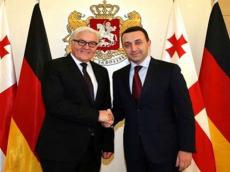 By Mushvig Mehdiyev
German Foreign Minister Frank-Walter Steinmeier held talks with Georgian President Giorgi Margvelashvili on December 8 as part of his two-day visit to Georgia.
The key topics on agenda were the so-called treaty between Russia and the breakaway Abkhazia region.
"Relations between Germany and Georgia have never been so good so far. I told the president that we will never recognize the so-called treaty. We also discussed the situation in Ukraine. We need a political solution to the Ukrainian crisis," Steinmeier said.
Margvelashvili, in turn, said the partnership between Georgia and Germany was deepening, as it was very important for Georgia on its way to Europe.
"Germany is doing a great and significant work for Georgia, helping us in our integration efforts. Security is much more important this year given the difficulties in Ukraine, as well as Abkhazia and South Ossetia. We hope that 2015 will be the year of peaceful solutions to these problems with the participation of the international community," Margvelashvili added.
During his visit, Steinmeier also sat for talks with Georgia's Prime Minister Irakli Garibashvili.
Steinmeier welcomed Georgia's progress in completing the first phase of the Visa Liberalization Action Plan with the EU and transition to the second phase.
"Very little time is left until Georgia and European Union reach a visa-free travel and I believe that it will encourage the development of the Georgia's economy," Steinmeier said.
Steinmeier reiterated Germany's strong support for Georgia's European integration and commitment to deepening political and economic cooperation between the two countries. He added that Germany does not recognize the so-called "Alliance and Strategic Partnership" treaty between breakaway region Abkhazia and Russia.
Garibashvili, in turn, stressed Germany's important role in the economic development of Georgia.
"Germany's commitment to Georgia's territorial integrity is of great importance for us, especially amid the possible signing of a similar document between Russia and Georgia's other breakaway region Tskhinvali (South Ossetia).
The two diplomats also discussed the roadmap of Georgia's EU Association Agreement and mechanisms for effective implementation of the NATO-offered Substantial Packages.
German Chancellor Angela Merkel's visit to Georgia was also discussed. Merkel is said to visit Georgia in spring 2015.