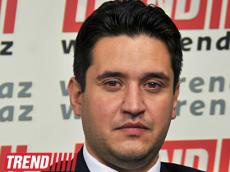 Today the globalizing world offers the world's countries to unite in various political and economic unions. Of course, in such unions, the countries partially lose their sovereignty. Moreover, this affects the opportunity of their independent economic policy.
The decline in economic growth rate in Russia will affect the countries of the Caucasus and Central Asia, according to the International Monetary Fund (IMF). Thus, the IMF believes that Russia's economic problems caused by the Western sanctions must reflect the trade-economic partners of this country in the region.
However, this statement can be primarily attributed to the strategic economic allies of Russia, which have the closest trade relations with this country, including Armenia, Kazakhstan and the Central Asian countries.
Amid this situation Kazakhstan's statement about searching for new oil export routes is significant in case of strengthening the sanctions against Russia. We also shouldn't forget that Kazakhstan, Belarus and Armenia are participants of the Eurasian Economic Union.
For a long time these countries persistently offered Azerbaijan to join the union. Meanwhile, the fact that Azerbaijan is not a member of any economic unions, into which the country is persistently invited, allows Baku to pursue an independent economic policy, and not to carry out any obligations as part of these unions.
Therefore, the world financial and economic crisis had a minimal impact on Azerbaijan.
Currently, Azerbaijan continues holding negotiations on accession to the World Trade Organization (WTO), to which several countries were admitted "at a breakneck pace". And compliance with Azerbaijan's national interests is the only reason of prolongation of these negotiations.
Independence, including from any international organization as well, is today one of the factors of development of any country, including Azerbaijan. Some succeed to achieve this independence, while others exist having a "Big Brother". And if this "brother" has problems, it automatically means problems for such countries.
The IMF also shares this opinion. It forecasts that the growth rate in the oil importing countries of Caucasus and Central Asia (Armenia, Georgia, Kyrgyzstan and Tajikistan) will drop by a full percentage point and stand at 4.6 percent of GDP in 2014.
Given that these countries have close ties with Russia in terms of trade and money transfer and have limited budgetary reserve, the slowdown in Russia has more impact on them than the oil exporting countries in this region.
/Trend/