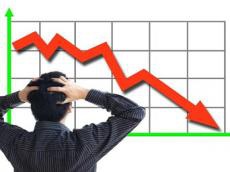 By AzerNews
As newly-released macroeconomic figures show Armenia didn't have any positive developments in the first half of 2014.
During the reported period, Armenia achieved only a 3.4 percent economic growth which was lower in comparison with the similar period last year.
The indicators also show that there has been no growth in all leading economic sectors during this period.
"The agriculture increased by only 1.4 percent, and construction by 0.4 percent," official statistics show.
The country's trade turnover didn't achieve any significant growth. The export increased by only 0.8 percent, while import by 1.1 percent.
Member of Parliament and Former Prime Minister Grant Bagratyan said that the progress amounted to only 0.3 percent during the first half of 2014.
"We expected more. How the current government can claim that it has improved the economic situation?," he wrote on his Facebook page.
He said that the new government lacks a new approach to develop the economy. "The government has only implemented some episodic reforms which are unacceptable," Bagratyan noted.
The economic situation in the country keeps deteriorating. The government recently acknowledged its failure to ensure a 5.2 percent economic growth set in the state budget for 2014.
President Serzh Sargsyan is expecting the new government to stabilize the economy. This comes as Prime Minister Ovik Abramyan has slashed the economic forecasts.
Local experts doubt that Abramyan's government will be able to ensure a four percent economic growth by the end of 2014. The absence of large economic projects, as well as foreign investment have led the country to a fully deadlock situation.