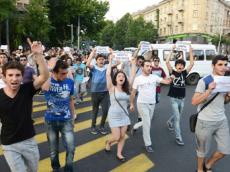 By AzerNews
The Armenian authorities are desperately looking for ways out of the growing social crisis in the country.
Now the government is encouraging the Armenian citizens to emigrate to Russia to prevent escalation of social dissatisfaction inside Armenia.
To this end, the government recently approved a draft treaty with Russia on a preferential regime for labor migrants.
The draft treaty provides an initially exemption from registration in Russia for the Armenian citizens. The exemption applies not only to migrant workers but also their families. For stays longer than 30 days, the registration is required.
Russia is the main destination for the Armenian migrants. "Around 503,000 Armenian citizens were Russia at the end of May," the Russian Migration Service recently reported.
The Armenian immigrants have been facing serious problems due to the revised Russian law on migration which became effective as of January 1, 2014.
The law states that the citizens of some former Soviet republics, including Armenia, have the right to stay in the territory of the Russian Federation without registration but only 90 days in six months.
The changes in the Russian migration legislation will deprive many Armenians from their source of income in the coming years. Russia banned entry to almost 50,000 Armenians within the subsequent three to five years, who stayed in Russia illegally. Furthermore, some 170,000 Armenian citizens face the risk of being deported from Russia.
The Armenian government's draft treaty on labor migrants is still under discussion in Russia. The approval of the document is expected before completing Armenia's official entry into the Customs Union.
Local media believe that a preferential regime in Russia for labor migrants from Armenia is the authorities' smart way to reduce social tensions which have gained momentum recently.
"The authorities create simplified conditions for the citizens to leave Armenia, or in other words, the authorities are turning Armenia into a desert," media report urged. "Armenia is unable to find required resources for implementation of its economic policies."
The Armenian public dissatisfaction with the government is on the rise due to upcoming waves of price increase in the country which will start by the hike in electricity tariffs by 10 percent from August 1. The government's draft treaty on labor migrants with Russia will undoubtedly boost further the migration outflows from Armenia, which in turn will prevent the conversion of the social discontent in into a revaluation.