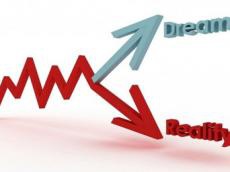 By AzerNews
Armenian President Serzh Sargsyan's instructions to ensure seven percent economic growth for 2013-2017 are doomed to failure.
Sargsyan threatened the government with firing for this "mission impossible".
The previous government was unable to achieve Sargsyan's index of 7 percent in 2013. The economic growth rate amounted 3.5 percent last year.
Thus, Ovik Abramyan's government intends to ensure a five percent economic growth under its so-called "maximum realistic" program for 2014-2017.
"The economic development based on local resources will be the main priority for the government within the next three years," the draft governmental program says.
In fact, Abramyan's government developed program guarantees its fast firing, local media believe.
"Sargsyan has to reduce the economic growth rate," the media report.
Providing five percent economic growth is doubtful. Abramyan's government recently said the indicator can be lower due-to difficult economic situation in Russia.
Armenia's economy seriously depends on the Russian economy and any negative change in the Russian economy is unfavorable for the Armenian economy.
Local experts believe that the country lacks resources to achieve economic growth. Armenia faces regress in all economic spheres and Abramyan's government will hardly achieve considerable progress in subsequent years.