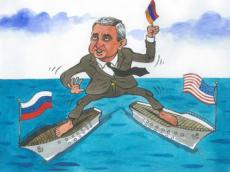 By AzerNews
The reality of losing the EU as a partner put Armenia's foreign policy makers in a difficult state after a decision to join the Russia-led Customs Union. They are decisive to join Russia-led Customs Union, whilst are not going to abandon a dream of joining the European Union.
Armenia believes that it will be able to cooperate equally both with the EU, and the CU. Armenian former PM Tigran Sargsyan voiced readiness before his resignation to sign the political part of the agreement with the EU- the part which was rejected by the latter. If the economic part of the Association Agreement is ineffective, then the political part turns into a useless paper.
French President Francois Hollande recently said in Yerevan that it is possible to find a model, which will allow Armenia to sign Association Agreement with European Union and at the same time join the Customs Union.
Commenting on Hollande's remarks Armenian PM Ovik Abramyan, who replaced former pro-western PM, said the country will cooperate with the EU, as well as the CU.
"President Serzh Sargsyan has said repeatedly that he supports the EU and the CU. We will cooperate with both bodies equally," he added.
However, this cooperation seems a bit vague for most Armenians, who well understand different political interests of these two organizations. So, before making official statements the government will have to think over its foreign policy priorities. Armenia needs to pursue an independent foreign policy, which is difficult enough for a nation every third of which live in poverty.
"Armenia's foreign policy vectors are determined abroad," opposition MP Aram Manukyan believes.
"Armenia's foreign policy decisions are made beyond the country's borders," he said. "The authorities do not form the country's foreign policy agenda since a long time ago. Armenia is incapable of deciding whether to enter the Customs Union, or return to the EU Association Agreement."
Armenia now is ruled by strong Pro-Russian PM Ovik Abramyan and President Serzh Sargsyan. With these captains on board and lack of free floating, it seems the ship of Armenia's foreign policy has a hard way to go to reach a stable coast.