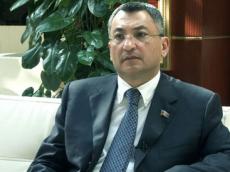 By AzerNews
Double standards have gained momentum in the world, preparing the ground for international lawlessness, Azerbaijani MP said.
"We are observing the spread of double standards and the victory of international lawlessness over the international law," a member of the Azerbaijani delegation to PACE Rovshan Rzayev told AzerNews. "We would never face double standards if the international law had a strong position."
Azerbaijan is a country suffering from other countries' double standards which have turned into a key instrument of the West's policy.
The South Caucasus nation has lost 20 percent of its internationally recognized territory as a result of Armenia's aggression in the early 1990s. The international community still closes its eyes to this injustice. Relying on West's double standards, Armenia ignores norms of international law in the settlement of the Nagorno Karabakh conflict.
The West supports Azerbaijan's internationally recognized territorial integrity, but does not want to hear anything about the imposition of sanctions against the occupier country.
The issue turns into a problem after adoption of each double standard. The West actively imposed new sanctions against Moscow following Russia's annexation of the Ukrainian region of Crimea. Furthermore, the Parliamentary Assembly of the Council of Europe (PACE) passed a resolution condemning Russia, saying the referendum on Crimea's joining Russia violated the Ukrainian Constitution. PACE also deprived Russia of voting right until the end of 2014.
Armenia had to be subjected to international sanctions long ago. This comes over the past 20 years Armenia has faced neither deprivation, nor a sanction. The West seems to be illogical and treats the facts of occupation on different bases. "Occupation" term seems to have different interpretations for the West based on definite interests, and probably economic ones. A confidence in the principles of international law weakens, as they are not observed clearly.
Rzayev said major international principles are protected by the international law.
"There is no mechanism to enforce these principles. Due to lack of this mechanism the UN Security Council's four resolutions on Armenian withdrawal [from occupied Azerbaijani lands] remains unimplemented to this day," he emphasized.