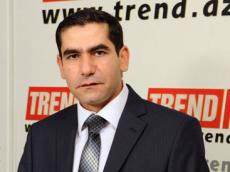 By Dalga Khatinoglu, Trend
:
Exports of Iran's previously banned cargoes, including liquefied petroleum gas (LPG), condensate and petrochemical production experienced a huge increase year-to-year.
According to the Custom Administration's new monthly report, published on May 5, the country's exports and imports increased significantly, especially those that had been banned since November 2013.
Iran and Sextet Powers in November 2013, including the U.S., the UK, France, Germany, Russia andChina, achieved an interim nuclear accord, which led to lifting some western sanctions against Iran, including restrictions over Iran's petrochemical exports. The accord was implemented in Jan. 20.
Sanctions on Iran's LPG exports, as well as gas condensate exports remained unchanged, but statistics indicate that the export of these cargoes also increased after the implementation on nuclear accord.
According to the statistics of the Custom Administration, Iran exported 846 million tons of gas condensate worth $779 million during the first month of current fiscal year, covering March 21 to April 20, which indicates a 38.35 percent and 43.74 percent increase in volume and value respectively, while the petrochemical exports increased by 20.91 percent to $926 million compared to the same period last year.
According to this report, the country's LPG export experienced the most increase among other major cargoes. Liquid propane and butane, so-called LPG is mostly produced from crude oil. Iran's propane exports reached $211 million during last month, indicating a 310 percent increase, while butane exports increased by 74.75 percent to $131 million.
The country also imported $52 million worth of automobiles, indicating a 345 percent increase. South Korea, which ceased auto export to Iran from mid-2012 to November 2013 due to sanctions, shared two third of Iran's auto imports during last month.
The country's total non-oil exports (including gas condensate) and imports reached $2.824 billion and $2.514 billion, indicating a 10.4 percent and 21.53 percent rise respectively.
The exports of Iran's previously banned cargoes started to increase from November 2013, and coincided with the obtained nuclear accord. According to Custom Administrations' monthly reports, the country increased gas condensate export volume from 195,000 barrels per day during the first eight months (March 20, 2013 to November 20, 2013) to 504,000 barrels per day during the last four months ofIran's calendar year, which covers November 21, 2013 to March 19, 2014).
Iran's petrochemical productions export also increased from $6.405 billion in the first eight months of last fiscal year to 10.723 $billion at the end of the last year, and indicates a huge increase.
Dalga Khatinoglu is specialist on Iran's energy sector and Iran News Service head in Trend Agency