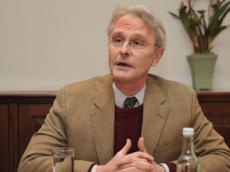 By AzerNews
The United States and the European Union are preparing possible tough economic and political sanctions against Russia as a result of Moscow's interference in the crisis in Ukraine.
There is still no mutual support between the U.S. and the EU over the sanctions, as in contrast to the U.S., EU states maintain close economic relations with Russia.
The new EU and U.S. sanctions could impact the work of Western energy firms in Russia, Russian President Vladimir Putin warned. "Moscow saw no need for counter sanctions against the West, but could reconsider the participation of Western companies in its economy, including energy projects," Putin said on April 29.
The EU policy is, and probably will be, less substantial than that of the U.S. on possible sanctions against Russia, a British expert believes.
"The U.S. is clearly less exposed than some EU states," Neil MacFarlane, Lester B. Pearson Professor of International Relations, Oxford University told AzerNews.
"When you aren't going to lose much, it is easier to be tough. Not surprisingly, the U.S. position is more robust. There is clear evidence of U.S. frustration over European timidity," he stressed.
The expert believes that European business will lobby against more severe sanctions.
"We already see concerns being expressed by European businesses with heavy investment and market exposure in Russia," he said. "This is influencing the policy of key European states. Clearly Germany, but possibly also the UK and others."
Commenting on Moscow's response action after the adoption of possible sanctions, MacFarlane said Russia will wait sanctions out in the hope that the problem will go away in time.
"That is a mistake. The real deal is long term. It has to do with European reliance on Russian energy exports," he noted. "Russian behavior on Ukraine has probably managed to convince Europe that this reliance is a bad idea. The Russians exploit it. Also, the Russians are convincing Europe that they are committed to undermining Europe's neighborhood policy and that they have a different vision of Europe."
He considers that it will result in the diversification of EU energy imports away from Russia.
"Europe adjusts its infrastructure to increase interconnectivity and buys elsewhere. It will also increase its own shale oil and gas production," he said.
MacFarlane went to say that the sanctions are not the real threat to Russia.
"Russia relies on foreign exchange revenue from these exports. The real threat for Russia is the gradual loss of their EU market," he said. "Ultimately that will increase Russia's dependence on the Chinese market. That shift of markets will impose substantial infrastructural costs on them.'
Expert expects that becoming dependent in China will be uncomfortable for Russia.