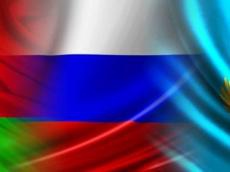 By AzerNews
The Russia-led Customs Union (CU) is not showing any strong interest in Armenia's membership.
Armenia was left overboard of a summit of leaders from Russia, Belarus, and Kazakhstan, as Yerevan's joining process to the CU was discussed in the absence of President Serzh Sargsyan on April 29 in Minsk.
Yerevan decided to become a member of the CU on September 3, 2013, hoping that it would save its almost dead economy. To this end, it was seeking to complete all the membership procedures in 2014.
Yerevan recently said it may join the Russia-led Eurasian Economic Union (EEU) at once.
Russian media reported that Sargsyan did not attend the summit because of Kazakhstan's position on Nagorno-Karabakh.
In December, Kazakh President Nursultan Nazarbayev raised questions about Armenia's membership in the CU, calling the definition of its borders into question and asking if the envisioned membership also included the so called "Nagorno-Karabakh Republic".
The Armenian political analysts believe that Armenia has no prospects of joining the CU as long as Azerbaijan does not give its consent.
They recently said Azerbaijan has good economic, political, and military relations with the CU members, so Azerbaijan's position on Armenia's entrance into the CU is extremely important.
Armenia's membership in the CU has been delayed. The Minsk summit announced the agreements on Armenia's joining the CU and the EEU will be ready by June 1, 2014.
Armenia's catastrophic joining process the CU elongates, local media reported.
"Armenia continues to remain outside the decision-making mechanism. The CU member countries have neither the time nor the mood to be busy with Armenia," media report noted.
Speaking about the joining process of new members, Belarusian President Alexander Lukashenko said integration should not turn into 'a process for the sake of process', where participation is more important than results'.
Lukashenko said he is against the allocation of a 'special status' to new arrivals of the CU.