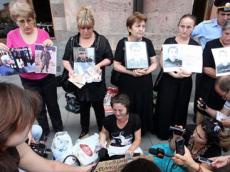 By AzerNews
Armenia's Defense Minister Seyran Ohanyan says the national army of the country is an example for all segments of the society.
He made the statement while mothers of died soldiers in non-combat conditions continue to hold protest rallies in Yerevan.
The mothers of died soldiers hold their previous protest rally in front of the president's residence on April 10 demanding meeting with President Serzh Sargsyan.
Ohanyan's statements contradicts the ombudsman's recent annual report on the Defense Ministry, which clearly indicated lawlessness reigning in the national army.
"Some 16 servicemen died due to the command's negligence in 2013. Eight of them died as a result of suicide, four due to illness, three as a result of murder, and one serviceman died due to violation of rules for handling weapons," the report specified.
The document stated that 241 cases such as persecution of servicemen, humiliation of their honor and dignity were registered during the reported period.
The report underlined serious problems related to conscription.
"Numerous men called up for military service were not provided with medical examinations. Some 728 complains about the decisions of military medical commissions were registered," the document reads.
The ombudsman underlined that a great number of complains about provision of defective medical care were registered. "The Defense Ministry found out only two cases, but no criminal proceeding has been brought in action," the report noted.
Furthermore, the Control Chamber's annual report indicated that Ohanyan's ministry wasted state budget in 2013.
"The ministry concluded purchase agreements with organizations that are not manufacturers or importers at the amount of 2 bln 458 mln drams ($5,918,913)," the report specified.
Ohanyan has been criticized for several times by President Serzh Sargsyan for abuses in procurement, but the situation still remains unchanged.
The army is a mirror of the society. The facts of the lawlessness in the national army clearly showed the real situation in the Armenian society. However, Ohanyan is proud of the army where lawlessness flourishes year by year and considers it as an example for the society.