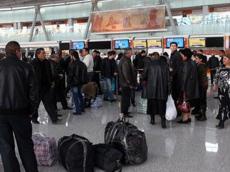 By AzerNews
A simplified procedure for getting Russia's citizenship will deepen demographic catastrophe in Armenia, which has faced an alarming increase in imigration in the past few years.
The Russian State Duma adopted an amended law on citizenship which simplifies the process of getting Russian citizenship by Russian-speaking compatriots.
A simplified procedure can pose a threat to Armenia and encourage many citizens to obtain Russian citizenship due to the difficult socio-economic situation in their homeland, Armenian experts believe.
The main target country for Armenian immigrants is Russia to which 95-96 percent of the immigrants go.
Armenia is still not able to avoid mass immigration. From 2008 to 2013, immigration reached 30,000-35,000 people per year. The statistics of the first quarter of 2014 is also very unpleasant.
The number of people who left Armenia by air exceeded the number of arrivals at 21,686 in the first quarter of 2014. Some 186,493 people departed from Yerevan's airport, while only 164,807 arrived at it.
The number of citizens who left Armenia in the first quarter of 2014 increased was 21,218 more than the same period in 2013.
The Armenian State Migration Service recently reported that if the share of citizens leaving the country with their family was 40 percent of the total immigration outflow some years ago, it has risen to 60 percent now.
The country's deteriorating situation has left no other choice for Armenian citizens than to leave the country for better living conditions.
Experts believe that Armenian immigrants will legalize their stay in Russia using the amended law.
The Armenian immigrants faced some problems due to the revised Russian law on immigration, effective from January 1, 2014.
The law states that the citizens of some former Soviet republics, including Armenia, have the right to stay in the territory of the Russian Federation without registration for only 90 days in every 180 days. This means that Armenian citizens cannot continuously live in Russia for more than six months.
Yerevan has asked Moscow to simplify the visa regime for Armenian immigrant. The Secretary of the Armenian National Security Council Arthur Baghdasaryan addressed a letter to his Russian counterpart Nikolay Patrushev and requested some changes in the Russian immigration legislation.
Baghdasaryan and Patrushev signed an agreement on the regulations for Armenian immigrants' stay and work in Russia on April 8. The details of the document are not disclosed.
The Armenian authorities achieved simplification of the Russian law on immigration, which undoubtedly will give an additional impetus for immigration from Armenia. These simplifications seem to leave Armenia with few citizens.