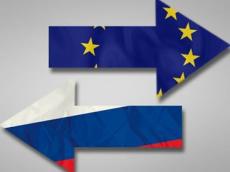 By AzerNews
Armenia remains indecisive about its future. The hesitation is reflective in the government's dilemma of choosing between Russia-led Custom Union and European Union.
While efforts were underway in Armenia to implement required procedures to join the CU, Parliamentary Speaker Ovik Abramyan said the country is mulling over developing cooperation with the EU.
Abramyan made the statement at a conference of parliamentary speakers of the EU and members of the Eastern Partnership Program (ENP) in Vilnius on April 8.
He said that Armenia will seek to find effective mechanisms for future cooperation with the EU.
"The work to form a new framework for the EU-Armenia cooperation will be specified in the near future," he noted.
In an effort to save its poor economy, Armenia now is resorting to all means including joining the economic unities as a way out of its tough situation.
Abramyan justified the decision to join the CU with "vitally important interests".
The country is seeking to sign all documents on the joining to the CU in May, 2014.
Joining to the CU has been declared as the main priority of the Armenian government so far. This priority has led the government to cancel an earlier decision to sign the Association Agreement with the EU in November 2013. The EU regretted Armenia's decision, which has strained relations between the sides.
Azerbaijani political expert Zardusht Alizade believes that Yerevan's joining to the CU will isolate it further.
"The future cooperation between Yerevan and the EU will be impossible after Armenia becomes a member of the Customs Union," he told AzerNews.
Alizade believes that Armenia as a poor country still relies on EU's support to save its economy.
He added that Armenia is unable to pursue an independent policy for the time being.
"Regardless on joining any political or economic organization Armenia has no future as a state," he said.