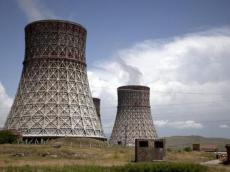 The Armenian government decided to increase a serious nuclear threat against the region despite the protests of the international community.
The Armenian government made a decision on March 27 to extend the operation period of the second power unit of the nuclear power plant in Metsamor, and at the same time activate the construction of a new nuclear power plant.
Metsamor NPP, built in 1970, was closed down after the devastating earthquake in Spitak in 1988, but resumed its operation in 1995 despite international protests.
Now Armenia intends to operate Metsamor NPP till 2026. The Armenian government reached an agreement with Russian state nuclear agency Rosatom to help keep the plant running beyond its original closing date of 2016.
Armenia postponed the plant's closure until 2020 in 2012.
The European Union labeled Metsamor NPP a danger to the entire region several years ago. Head of the European Union Delegation to Armenia Traian Hristea said in March 2013 that the EU continues to ask Armenia to stop using the Metsamor nuclear power plant as soon as possible.
"We have repeatedly appealed to the government of Armenia, asking it to develop a program for the conservation of the nuclear plant as soon as possible," Hristea said.
Regional countries Azerbaijan, Turkey, and Georgia have repeatedly urged Armenia to close the outdated Metsamor NPP immediately. But, Armenia still does not attach any particular importance to nuclear safety.
Under the Armenian government's recent decision, the Finance Ministry was instructed to take measures to sign an agreement with the Russian government to draw loans to implement the program by May 1, 2014.
Energy and Natural Resources Minster Armen Movsisyan said Armenia continues to make preparations for building a new power unit.
"Construction slowdown resulted from the international economic crisis and several recent geopolitical processes that did not allow us to provide sufficient funding for the construction of this station," he said.
Metsamor NPP was built in a nine-point seismic zone, while its reactor's seismic resistance is designed for earthquakes with eight-point magnitude.
"In case of an earthquake forcing nine points, Metsamor NPP will not survive," Director of the Institute of Radiation Problems of the Azerbaijan National Academy of Sciences Adil Garibov said.
Given the large number of minor earthquakes in the past 10 years in this area, and the intensification of seismic activity shown by seismologists' researches, in the event of a serious accident at the Metsamor NPP not only Armenia, but also all the countries of the South Caucasus and Middle East regions would be badly affected.
International experts believe that Metsamor NPP's reactor is the most unsafe among the six old reactors in Eastern Europe and the former Soviet Union.
Despite international and regional protests, Armenia is increasing regional nuclear threat by constructing a second power unit at the Metsamor NPP which was built in the Soviet period and does not meet current safety standards.