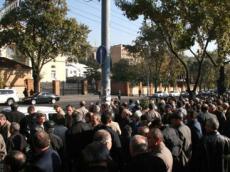 By AzerNews
Hundreds of Armenian families living in the center of capital Yerevan have almost lost hope for owning an apartment.
Back in 2008, residents of the 33rd quarter moved from the zone after the government recognized this area as a priority zone of social interests, and destroyed it. The government ensured former residents that they will get apartments in the newly constructed building within three years.
The construction company signed agreements with 188 families, but only few of them received apartments, while others have to rent housing. The company gives payments to homeless residents for rent, but with a delay. Residents complained that this year the money for the rent has not yet listed.
This situation is similar for almost all people. Dozens of Armenian families still could not move to their new apartments. The construction company which belongs to former MP sold the apartments, but the company became bankrupt and now the owner of the apartments is a bank. Cheated citizens were left without apartments, as well as without money.
Yerevan has recently faced mass protests of residents who are in hopeless situation. The government's careless attitude to citizens' problems forces them to take even extreme measures.
"Just let them try not to give our home back, we will burn Yerevan," protesters said in front of the government's building on March 13. "We will split up into groups to burn government buildings using bottles with gasoline."
Discontent families chanted in front of the government's building "Prime Minister!" and demanded a meeting with PM Tigran Sargsyan. Residents said that the prime minister and the mayor of the city is constantly giving them false promises. The protesters tried to get closer to the government building, but police did not allow.
Another group of homeless citizens staged a protest action in front of the Armenian president's residence, saying that the president is their only hope. They were given a promise to have solved their problem in a month. Still it remains to be seen whether the authorities, who have done nothing for eight years will solve the problem during a month or not.
The protests actions have turned into everyday occurrence in Armenia. Homeless Armenian citizens are bored of authorities' false promises. By these empty promises the authorities give impetus to the social riot, which is becoming inevitable for Armenia.