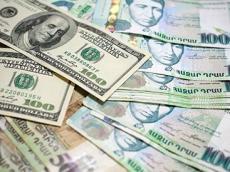 By AzerNews
The Armenian government is seeking ways to ensure the stability of national currency, dram, which keeps rapid devaluation for last months.
Armenian dram collapsed on March 3, when the U.S. dollar exchange rate rose from 350 drams to 400 drams.
On March 5, the U.S. dollar exchange rate hit 414.4 drams, increasing by 0.24 drams compared to the previous day, the Armenian Central Bank reported.
The Central Bank had to put $25 million to the market this week in tackle the financial crisis in addition to $61 million in cash directed in February to maintain the balance.
Lack of favorable business environment made some local companies to leave the country. The businesses, which were not allowed to operate in the free economic zone, are search of better environment.
After receiving a rejection from the government for registration, one of the local IT companies has no way but to leave Armenia for another country where IT sector is more valuable.
And this occurs amid Armenian Prime Minister Tigran Sargsyan's recent statement about rapid development of the IT sector in the country. "The government and businesses in IT sector have very close cooperation, which yields positive results," he said.
Such developments directly show that a five-hour special meeting presided by President Serzh Sargsyan at a dinner table with senior government officials was quite ineffective to highlight the country's major problems. Devaluating dram and leaving businesses give no hope for the Armenians to survive tough socio-economic conditions, but deepen the crisis.