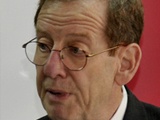 The Nabucco pipeline project, designed to transport gas from the Caspian region and the Middle East to the EU, is the most profitable from the political and strategic point of view, the U.S. State Department Special Envoy for Eurasian Energy Richard Morningstar said in Baku on Monday.
He said the only question is whether this project will be commercially viable. The U.S. has no doubt that there is enough gas for the Nabucco. Ultimately, Azerbaijan can have enough gas to fill the pipeline, he said. Also, it is likely to transport gas from Iraq. The only question is when all of these volumes of gas will be available.
"The main issue is whether by 2017 (the planned date of commencement of gas supplies for Nabucco) there will be enough gas," said Morningstar.
He said if it is decided that Nabucco is not now a commercially viable project, then other options will be considered - small pipelines, which can later be enhanced as new volumes of gas are available. It can be ITGI (Turkey-Greece-Italy Pipeline), TAP (Trans Adriatic Pipeline).
U.S. supports all projects within the Southern Corridor, he said.
"Priority number one is the gas from Shah Deniz, which will be transported via Turkey to Europe. We therefore support any pipeline under the Southern Corridor," said Morningstar.
Morningstar considers a good option combining several projects of the Southern Gas Corridor.
Speaking about the Trans-Caspian gas pipeline project, he said that the U.S. supports its implementation, but it should be agreed by three parties - Azerbaijan, Turkmenistan and the EU.
"We have always had political support for the realization of this project. We are now ready to offer necessary support and we hope that this project will be implemented," said Morningstar.
Southern Corridor is a priority EU energy project diversifying energy supply routes and sources and increasing EU energy security.
The construction of Nabucco gas pipeline, with a maximum capacity of 31 billion cubic meters per year, is scheduled for 2013 and first deliveries are expected in 2017.
/
Trend
/