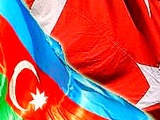 Turkey's Otokar finished the supply of Cobra armored personnel carriers to Azerbaijan according to the deal signed with the Azerbaijan's Ministry of Defense Industry last year, Serdar Gorguc, Otokar CEO said.
He said several different models of Cobra and Land Rover Defender vehicles were delivered to Azerbaijan and now Otokar organized training for Cobra personnel.
"We think our armored vehicles will be successfully used in the Azerbaijani conditions. Now we organized trainings for the Azerbaijani personnel", said CEO.
Otokar is working now on other cooperation projects with Azerbaijan.
The monocoque steel v-hull provides protection against small arms fire, artillery shell shrapnel, anti-personnel/tank mines and IEDs. Front wheel arches are designed to be blown away to free blast pockets.
/
APA
/