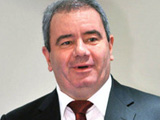 The income from the Azerspace national telecommunications satellite will reach roughly 495 million manat, Azerbaijani Communications and IT Minister Ali Abbasov said at the Azerbaijani Diplomatic Academy. He added, that the funds will be spent on technological development.
According to the ministry, Azerbaijan's capital investment in the project is approximately 319 million manat; 127 million will be spent on operating costs. The payback period is six years, and the income will reach 176 million manat.
"Azerspace is expected to launch in July-August 2012," the minister said.
Earlier media reported that Malaysia had expressed an interest in acquiring a 40-percent share of "Azerspace". The ministry intends to direct 80% of the satellite's resources to the international market and the remaining 20 percent to the domestic market.
"Azerspace" will be equipped with 24 transponders C band and 12 transponders Ku band. The satellite will be placed in orbit at 46 degrees east longitude. The satellite's term is 20 years. Its service area will cover Europe, Central Asia and Africa.
/Trend/