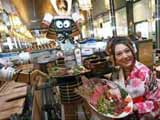 Have you ever see the restaurant with a robot waiters?? now with the advanced of the technology, the japanese restaurant that located in thailand give you a new experience with the samurai robot waiters. this samurai robot waiters surely makes a good promotion to their restaurant. i'm sure that there's so many people curious about this samurai robot waiters.
A Japanese restaurant in Thailand isn't something to get overly excited about, but if that restaurant has robot samurais as waiters, it's a whole other matter.
Lapassarad Thanaphant, a Thai entrepreneur, decided to open a new Japanese restaurant, and found the perfect way to make it stand out from the competition: robot waiters. But not just any robots, samurai-shaped machines that slide all the way to your table, bring you your order, clean tables, and even do an adorable dance routine, to entertain guests.
So, just days after the robot kitchen chef was presented, we already have an almost complete automated restaurant system. According to the owner of Hajime Restaurant, the cool samurairobot waiters cost $930,000, but with the popularity this place is enjoying this days, he's sure to get his money back very soon.
Be sure to check out the Hajime samurai robot waiters in action, in the video, at the bottom.
/World Must be Crazy/

Click to enlarge: