Air hostesses employed by Spanish firm Air Comet have stripped naked for a calendar to protest against unpaid wages.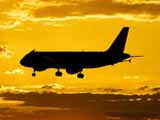 The company went into administration last December when a UK judge ordered it to stop selling tickets and using its planes after it was sued by German lender HSH Nordbank.
Cabin staff are owed up to eight months' salary and in a bid to gain exposure for their plight, 1,000 calendars have gone on sale for £13 featuring nine female members of staff wearing only their caps, gloves and shoes, The Sun reports.
Adriana Ricardo, who poses as Miss August, said: "I think it's a different and very elegant way of highlighting our plight. The rest of our colleagues are completely behind us."
She added to Reuters: "We are just demanding our rights to receive what is ours, we each have eight or nine months of unpaid salaries."
/Digital Spy/

Click photos to enlarge: