On February 21-24, Azerbaijan will be represented by Azerinvest LLC in International Competition of Winemaking Industries to be held in Moldova.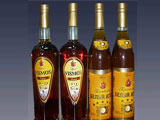 Agro-Azerinvest Director Vidadi Valiyev told APA that 500,000 bottles of cognac were exported to Russia during November-December, 2006 and additional 100,000 bottles of wine will be sent to Russia.
He said the Company planed 810ha of vineyard in 5 regions and will increase the acreage to 900ha next year and to 1,500 ha in a few years.
"We will harvest 1,300 tons of grapes this year and buy 700 tons from population. This volume means 140,000 decalitres. Some part of the wine will be sold on domestic market, the rest will be exported to Europe," he said.
Agro-Azerinvest of Gilan Holding Group of Companies exports products to Russia and CIS. The Gabala-based company was awarded in a winemaking competition in Moscow.