Islamic Countries' Trade Chamber chairman Sheikh Saleh ibn Abdullah Kamal has today met with Azerbaijani businessmen in Baku.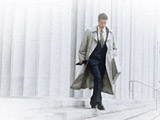 Azerbaijani Trade and Industry chamber chairman Suleyman Tatliyev informed the guest of economic reforms carried out in Azerbaijan and noted that Azerbaijani international relations at the same time Azerbaijani companies' relations are regularly expanding, and Azerbaijan's relations with Islamic countries are in high level.

Sheikh said that Islamic countries' economies have a number of issues to deal with.
"They include coordination of education with labor base, necessity of rise of inventions, rise of employees exchange and expansion of information exchange and so on. Today some Islamic countries such as Pakistan, Indonesia export workforce while some others need import the workforce. We should support sending of workforce from Islamic countries to Islamic countries."
He also said that every country should provide real information about its potentials, APA reports.