On decision of general meeting of International Association of Exchanges of CIS countries (IAE CIS), Farhad Amirbayov, Baku Interbank Currency Exchange (BIBA) Chairman, was reelected to the Managing Staff of the Association.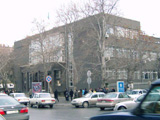 As APA reports, general meeting of the association was attended by 14 CIS organizations' chairman and in this meeting annual report of IAE CIS concerning 2005 was confirmed. National finance market and development prospects were discussed at the meeting.
RTC Stock Exchange was admitted to the Association at the meeting as well.
IAE CIS was established in Moscow in 2005.

This Association includes 18 exchange and 3 depositary organizations from 9 CIS countries.
BIBA is also one of the cofounder of IAE CIS.