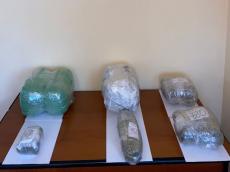 On March 22, at 8:50 p.m., the smuggling of narcotics from the Islamic Republic of Iran to Azerbaijan was prevented in the service area of the border outpost located near Mammadbeyli village of Zangilan district of the "Horadiz" border detachment of the State Border Service.
According to the information received from the press center of the State Border Service, as a result of the border search and operational measures, a total weight of 6 kilograms of narcotics was found and seized.
Operational-investigative measures are being continued.