A new general plan of Baku is being developed with close cooperation with the specialists from foreign countries such as Germany, France and Japan, Trend report quoting Akif Abdullayev, the senior architect of Baku.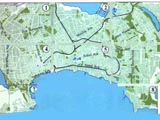 According to Abdullayev, the architecture of the world level is also applie.  "New general plan of Baku is scheduled for 20-25 years. It will include development of the city," Abdullayev underlined.
He also stated the previous general plan designed in 1975 was adopted by the then Executive Council of People's Deputies in 1987. It necessitated the changes in the document.  
The senior architect of Baku said that the construction in the capital is cared out in compliance with the general plan.