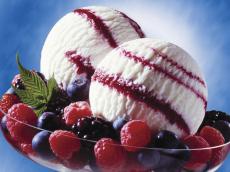 By Azernews
By Nigar Abbasova
For the majority of people ice-cream is a mainstay of summer, the period which increases demand for refreshers.
Ice cream, a frozen dessert with lip-smacking taste and alluring chillness, is usually  made of dairy products, such as milk and cream, and often combined with fruits or other ingredients and flavours. 
When the mixture freezes, it develops the rich, creamy consistency of ice cream, a food that can affect one's health in both positive and negative ways.
So what are the benefits? How is an ice-cream disadvantageous to our health?
Pros and cons
Ice-cream is a source of important vitamins and minerals. It is particularly rich in calcium and phosphorus and vitamins including A, C, D and E, B-6 and B-12. The product also provides a small amount of vitamin K, an important blood-clotting factor.
Ice-cream also prevents mood swings and helps to fight depression, as it may boost the serotonin, "the hormone of happiness" which regulates mood.
The frozen dessert contains a high content of whole milk, which makes it rich in fat and saturated fat, the content which provides energy and protects organs from stress.
The other side of the coin is that the saturated fat can lead to weight gains and even cardiovascular diseases. Besides, consuming too much ice cream and eating it regularly may lead to elevated cholesterol level and diabetes. 
Eating ice cream can also sometimes cause headache, but this is due only for certain people, who are very sensitive to cold.
How to properly choose an ice cream?
When it comes to choosing an ice cream, there are a few factors to consider and keep in mind.
Experts offer to give preference to white and coffee-colour ice creams, as such colours indicate low content of colouring agents, which may lead to certain diseases.
Foul aftertaste, smell, and disproportionate shape are among the indicators of the violation of storage norms. Pay attention to the date of issue, period of storage, exterior appearance, norms of storage, and package integrity of the product.
Food poisoning is the primary danger of eating outdated ice cream. But the date on the container is not the only indicator that one should take into account while deciding whether an ice cream is safe to eat or not. It also matters how long ago it was purchased, when it was opened and how safely and properly it has been stored.
The maximum keeping time for an ice cream is 10 months on conditions that the product is being held in line with all norms of storage.
Products spoiled by bacteria which may look, smell and taste fine can make us sick. Freezing of an ice cream slows bacterial growth but doesn't kill it, bacteria can begin to grow again as food thaws. Do not consume any ice cream that thaws completely, as there is due a danger of bacterial growth.
Make sure that ice cream is frozen solidly and that the container is not frosted or sticky, an indication that it has partially thawed at some point.
To lower the risk for high cholesterol and sugar-related problems, choose a low-fat, low-sugar ice cream substitutes, and once again remember that consumption should be moderate.
If you are on a diet, the best option is to choose an ice cream, which does not include fats in its composition.
Manufacturing issues
There are also certain threats that low-grade products pose to the health. Improper dosage of some ingredients contained in ice creams may lead to bad effects and even be partially responsible for the increase in allergies, metabolic syndrome, obesity, high blood pressure and some immune related disorders.
Excessive quantity of sugar and artificial flavours also contribute to all sorts of diseases. On average quantity of sugar in ice cream should not exceed 16 to 23 grams sugar per 100 grams.
Temperature, use of up-to-date technologies as well as proper use of stabilizers, emulsifiers, which are added to the product to keep an ice cream stable, give it texture and make it more resistant to melting.
Measure is a treasure
The product cannot be deemed as totally bad for health unless one eats too much of it. Moderate consumption of ice cream can actually bring several benefits to health due to all vitamins and minerals it contains.
Paying attention to the quality of the product is the best way for enjoying favorite and delicious dessert not causing any harm to health.