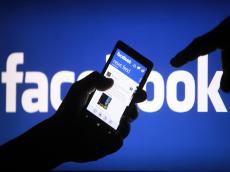 Revenue rose 42% in the first quarter, but was weighed down by the rising U.S. dollar and fell short of Wall Street estimates. (And Facebook warned that the stronger dollar would be more deeply felt in the second quarter.) Total costs and expenses jumped 83% from a year ago, resulting in a decline in profit.
Facebook shares are trading down about 2%.
So what are analysts saying? Here's a snapshot:
RBC Capital Markets analyst Mark Mahaney
Price target to $105 a share from $88 a share, reiterated outperform.
"Facebook remains one of our Top Long Recommendations in the Large Cap Net sector. Facebooks's Q1 P&L and Metrics results were intrinsically very strong. We see the company correctly ramping up investments – from a position of strength – in many promising, high-growth areas (e.g. video – now at 4 billion daily video views vs. 1 billion in Q3). And those high-growth areas represent four greenfield revenue opportunities (Instagram Monetization, Auto-Play Video Ads, FAN & WhatsApp) that can contribute well over $2 billion in incremental revenue in 2015."
Bottom line: "The Internet is experiencing something of an inflection point in terms of demand for Video and Mobile Advertising, and Facebook may well be the single biggest beneficiary of this inflection."
Sanford C. Bernstein analyst Carlos Kirjner
Rated market-perform with price target of $84 a share.
"Facebook reported 1Q15 results last night after the close. We believe that investors who own the stock believe there is much unrealized potential not yet reflected in consensus estimates, and will continue to believe so. Those (few and far between) who think Facebook has some structural challenge (e.g., the sustainability of app install revenues), will also not change their views based on the quarter. Even those who, like us, appreciate the long-term potential and optionality but believe the Street is a bit too optimistic on revenue growth over the next several quarters, and find it hard to make a half-convincing case for outperformance in the next 12-24 months also won't be swayed by the results."
Rosenblatt Securities analyst Martin Pyykkonen
Maintained buy rating with a price target of $100 a share.
"While there was not much quantitative detail in terms of 1Q15 results regarding video ads, we still think video ads and gradually higher ad load rates on the core Facebook news feed and overall Instagram ads with higher penetration with large brand advertisers will be key incremental revenue growth drivers this year and into 2016."
UBS analyst Eric Sheridan
Buy rating, $92 a share price target.
"While clearly a more loved stock by global investors in 2015 vs. 2014, Facebook's continued execution, early stage in monetization of time spent and leadership position in mobile shouldn't be treated with complacency. Going forward, we look to (the second half of 2015) and 2016 as catalysts for product innovation and monetization as Facebook broadly deploys solutions in video, messaging, eCommerce and ad tech."
Cowen analyst John Blackledge
Price target $94 a share.
"Facebook's video consumption growth remains explosive as it evolves into a premier digital mobile video platform, reaching 4 billion video views/day in 1Q15 (75% on mobile) vs. 3 billion in 12/14 and 1 billion in 9/14. For perspective, we estimate ~7.9 billion video views per day on YouTube by the end of 2015, which we estimate will generate ~$5.9 billion in revenue in 2015. Management noted Entertainment/Media is now a top 4 advertising category given Video ads from that segment. We estimate Video ad revenue of ~$1 billion in 2015."
SunTrust Robinson Humphrey analyst Robert Peck
Maintained buy, raised price target to $100 a share from $90 a share.
Peck says items to watch are: "1) 2Q FX headwind will be greater than -7% impact in1Q; 2) while the spending range was narrowed at the high end, and capex remained the same at ~$3B, the returns on these investments may take years to materialize; and 3) expectations remain high – investors may overestimate the timing of adoption and roll out of new products (like video and Instagram)."
Sterne Agee analyst Arvind Bhatia
Buy rating with price Target of $92 a share from $85 a share
"The key to the Facebook story continues to be its ability to succeed on the mobile platform, where significant ad dollar growth is likely to occur for multiple years. For example, in the U.S., mobile gets 25% of consumers' media time but only 10% of ad budgets today implying there is significant room for industry growth ahead. Facebook has a 20% market share of the time on mobile, which means it should ultimately get 5% (25% x 20%) of ad dollars. Yet, it currently gets much less."
"The main points are: 1) the secular shift away from offline advertising will continue over the foreseeable future; 2) most of the ad dollar growth will occur on mobile; and 3) Facebook is extremely well positioned on the mobile platform. Furthermore, we note that Instagram is still in the very early stages of monetization. Facebook Messenger and WhatsApp have deliberately not been monetized yet as the focus is on growing the user base. All of this underscores why Facebook and its family of apps position the company well to maintain many years of high growth rate."