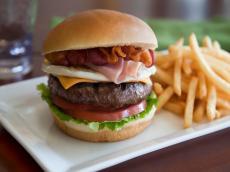 It's reminiscent of the type of excess seen in the "Wolf of Wall Street." Surrounded by his baying colleagues, a young trader was forced to eat eight quarter pounders until he was violently sick as part of initiation ceremony at his firm in London's City financial district.
Given 60 minutes to complete the task, the employee can be seen in cellphone footage forcing down mouthful after mouthful of the McDonald's burgers, until he clearly becomes unwell.
As he hold his head in hands, his merciless colleagues urge him to continue the competition against a co-worker and complete the task in time, despite that fact that he is about to be sick.
Struggling to finish the final burger, he then wobbles off his chair and violently vomits into a wastebasket next to his desk.
A witness told Britain's Mail On Sunday newspaper that a prize of £300 ($440) was offered to the winner.
One quarter pounder has 526 calories and contains 26 grams of fat, according to the restaurant chain's website.
A spokesman for Marex Spectron, which describes itself as a "leading independent broker of agricultural and environmental products," told the paper the incident had "occurred over a year ago" and the matter had "been addressed internally."
However, the video triggered criticism.
Philip Augar, a former investment banker and author of "The Death Of Gentlemanly Capitalism," told The Telegraph newspaper: "Initiation rites are a form of bullying and have no role in the workplace."
/By NBC News/