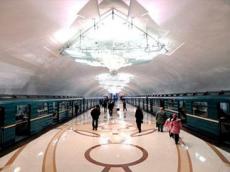 The Tines Polish Company is interested in participating in the construction projects of the Baku Metro new lines, the company's CEO Thomas Shuba told Azerbaijani journalists in Krakow.
"We know about Azerbaijan plans to expand the existing underground network, and have made proposals to Baku Metro management on participation in the supply of modern systems of upper rail structures. Currently we are awaiting an answer," Shuba said,
The length of the Baku Metro line is 34.6 kilometres. At present the Baku Metro has two lines. In the future, the number of underground lines will increase to five, the length up to 119 kilometres and the number of stations up to 76.
Baku Metro has been operating since 1967 and has 23 stations. As part of a 20-year programme on the development of the underground, commission of five new stations is scheduled for 2016.
According to Shuba, the Tines Company specialises in the supply of safe and low noise upper rail structure constructions of rail, tramways and metro lines.
"We have implemented a number of big projects in Poland, Ukraine, Russia and Kazakhstan. Our technology was used in the construction of subway lines in Warsaw, Kiev and Almaty. We have established production of our systems in Kazakhstan and are also considering enterprises in Russia," he said.
He also noted that the Tines system for automobile crossings may be of interest in the construction of the Baku-Tbilisi-Kars railway.
It is planned to construct a new 105-kilometre branch railroad within the Baku-Tbilisi-Kars project. In addition, the section of the Akhalkalaki-Tbilisi-Marabda railway will be reconstructed in Georgia which will increase its capacity to 15 million tons of cargo per year. It is planned to build sidings in Akhalkalaki for the transition of trains from the existing train tracks in Georgia to the European one.
/
Trend
/