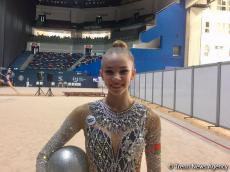 Trend:
The Azerbaijan Gymnastics Federation seriously and responsibly deals with organization of international gymnastic tournaments, gymnast Anastasia Zacrevschi representing Moldova told Trend on April 28 at the FIG World Cup in Rhythmic Gymnastics in Baku.
The gymnast said that it is her second World Cup and she performed well in Baku.
"I am in Baku for the first time, and I admire the approach towards organization of tournaments - everything is done very seriously and responsibly," she said.
The gymnast noted that she had spent a week in Baku before the FIG World Cup.
"I was preparing for the championship, and I can say that I am delighted with how professionally the Azerbaijan Gymnastics Federation is doing everything. The Federation has an incredible level," Zacrevschi noted.
The gymnast said that Azerbaijani coach Jala Garatova is accompanying her when entering the stage, as her coach is a judge at the competitions.
"Despite a short period of time, we found a common language. I'm very pleased with Jala," she said.
The second day of the World Cup in rhythmic gymnastics started April 28 in the National Gymnastics Arena in Baku.
Today, individual qualification competitions with clubs and ribbons and team qualification competitions with three balls and two ropes take place. Also during the day, the winners in all-round events will be determined both in individual and in group competitions.
On the second day of the competitions, Azerbaijan is represented by Veronika Hudis and Zohra Aghamirova in individual performances, as well as a group team consisting of Ayshan Bayramova, Diana Doman, Zeynab Hummatova, Aliya Pashaeva and Siyana Vasileva.
The World Cup in Rhythmic Gymnastics takes place in Baku for the sixth time. The tournament, which will last until April 29, features 127 gymnasts from 26 countries. Of these, 44 athletes perform in individual programs, while 83 gymnasts compete in teams in group exercises.