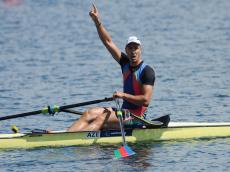 By Amina Nazarli
Less than three months is left before the opening of the first European Games in Baku. Azerbaijan's Mingechevir, which will host one of the Games events, is going to held a test Presidential Cup rowing competition in academic, kayaking and canoeing categories, on April 3
The event to be held in the country for the eighth time will be carried out prior to the 2015 European Games. The competition will take place in Mingechevir's "Kur" Olympic Training Center.
Some 100 rowers will take part in the competition. Azerbaijan will be represented by 70 rowers from Baku, Mingachevir and other clubs in all three categories.
Georgia's team will include 22 rowers, who will compete in all categories, while Turkey will be represented by eight sportsmen in kayaking and canoeing.
Only two categories, kayaking and canoeing will be included in the list of Baku 2015 sports. Four-time World and European champion Valentin Demyanenko and Inna Osipenko-Radomskaya will represent the country in the Games. Canoeist Sergey Bezugliy, Aleksey Kupin as well as kayak athletes Mirnazim Javadov and Tamerlan Mustafayev will also compete for the best title.
The competition will run until April 5.
Baku 2015 is the first ever European Games, an exciting and innovative multi-sport event for the continent which will take place from 12 – 28 June 2015.
There will be a total of 20 sports at Baku 2015 including 16 Olympic sports and four non-Olympic sports. More than 6,000 athletes from across Europe will be representing their nations over 17 days of competition.
Eleven of the sports will offer qualification opportunities for the Rio 2016 Olympic Games. Those sports include Archery, Athletics, Boxing, Cycling, Shooting, Swimming, Table Tennis, Taekwondo, Triathlon, Volleyball and Wrestling.