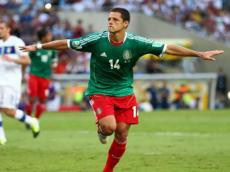 Chicharito Hernández is the nº9 that Real have been looking for as a finishing touch to the team before the summer market comes to a close tomorrow. 'Los Blancos' are at present deep in negotiations with Manchester United to get the deal done in time.
Real have been combing the market for a striker able to replace Benzema. This has been Ancelotti's wish ever since the sale of Morata to Juventus, and the suits at the Bernabéu want to keep the manager happy.
Real have all their faith in Jesé, despite still not having fully recovered from his injury. For this reason, the club is only looking for a loan-deal with a player who is well aware that his role will not be that of the starting striker, but more that of a super-sub. Real, waiting for Jesé to get back on form, will not accept anyone with pretentions to be the star of the show.
Chicharito is one of the names on the table. The Mexican is surplus to requirements for Van Gaal, scores well and should be happy to take more of a back seat at Real.

/Marca/