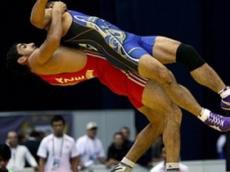 Wrestling competitions have kicked off as part of the 2nd Summer Youth Olympic Games in Nanjing, China, Azerbaijan's Wrestling Federation said Aug. 25.
Greco-Roman style wrestlers performed on the first day of competitions.
Wrestling matches are round-robin. Wrestlers compete in each weight category in two subgroups. Winners in the subgroups compete in the finals, those taking the second place fight for a bronze medal.
Azerbaijani wrestler Jabbar Najafov was competing in the 50-kilogram weight class in subgroup B. After defeating wrestlers from Moldova, Turkey and Iran, Najafov proceeded to the finals. In the finals, Najafov was defeated by an athlete from Uzbekistan, and won a silver medal.
Another Azerbaijani wrestler - Islambek Dadov was competing in the 69-kilogram weight class in the subgroup A.
He reached the finals by defeating wrestlers from Egypt, Kazakhstan and Uzbekistan. In the finals, Dadov defeated a wrestler from the U.S. and became an Olympic champion, having won the gold medal.
Azerbaijan was represented in the competition management by the international judge, Sadi Guliyev.
It should be noted that during the 1st Summer Youth Olympic Games, held in 2010, Azerbaijani wrestlers were competing in full force, and won four gold medals and one silver.

/Trend/