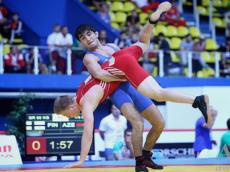 Junior Wrestling World Championship started in Croation capital Zagreb yseterday,
Day.Az
reports citing
to Azersipsort.Com.
Greco-roman westlers took the mat on the first day of the tournament.
Ibrahim Nurullayev (50 kg), Elman Mukhtarov (60 kg) Sanan Alimirzayev (74 kg) and Orkhan Nutiyev (96 kg) represented Azerbaijan at the champiosnhip.
Nurullayev, Mukhtarov and Nuriyev have became the winners in their category.
Alimirzayev has lost in the start.