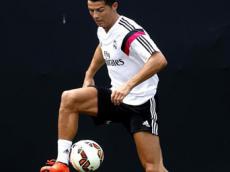 The most significant item of news that emerged from the after-match training session in Los Angeles was the absence of Cristiano Ronaldo following his arrival in the United States. He was working with Santi Lozano, the club's physical trainer, away from all the other players with a view to making a satisfactory recovery from his injury.
He doesn't want to run any risks, and to do things one step at a time, until he returns to his best form, and therefore he is doing a series of personalised exercises, with gentle runs and stretching, until he can join up with the rest of the players in the daily training routines.
Ronaldo got injured in the final stretch of last season and was not really himself in the Champions League final nor in the World Cup in Brazil. Others training for the first time were Iker Casillas, Xabi Alonso, Sergio Ramos, Luka Modric, Fábio Coentrao and Álvaro Arbeloa, who joined the Real Madrid tour in the middle of last week. Also training with them were reserves who were not picked for the game against Inter Milan in Berkeley, which Real Madrid lost on penalties.
Those players who started in Real Madrid's first pre-season match had a slightly lighter training session, divided between the gym and the swimming pool, focussing on recovering for the next match, in Dallas, on Tuesday, 29th, where they will be going all out for their first win of the summer, against Roma.
/Marca/