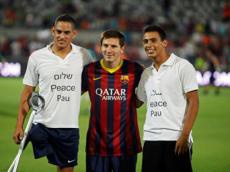 A host of footballing icons from across the world, including Lionel Messi, Zinedine Zidane, Samuel Eto'o, Andrea Pirlo and Javier Zanetti, will take part in the 2014 Match for Peace on September 1.
The event, the brainchild of Pope Francis, is intended to support some of the poorest sectors of modern society across Europe, South America and the rest of the globe. It is led by two charitable projects: Scholas Occurrentes, an educative entity serving the commonwealth, and Fondazione P.U.P.I Onlus, founded by Zanetti and his wife Paula, a foundation promoting and supporting long-distance adoption programs.
Proceeds from the match will be donated to the 'Un'Alternativa di Vita' (A Life Alternative) project - a beneficiary of Scholas Occurrentes and Fondazione P.U.P.I Onlus - which aims to support the education of impoverished youngsters in Buenos Aires.The match itself - which will also feature Roberto Baggio, Gianluigi Buffon and Yuto Nagatomo - will be held at the Stadio Olimpico in Rome on September 1 at 20:45CET, and Goal has been named as an official media partner of the event.
Former Inter captain Zanetti said: "I am proud to offer my help in arranging the Interreligious Match of Peace.
"It was April 2013 when Pope Francis, during a meeting, shared with me the idea of creating a moment of friendship and union between religions. Since then, we are dedicating great efforts to the cause in order to make it a great night of excellent soccer and a fundraising event but, most of all, a festival of people and an opportunity for a common reflection, without forgetting the most immediate goal: financing the 'Un'Alternativa di Vita' project."

/Goal.Com/